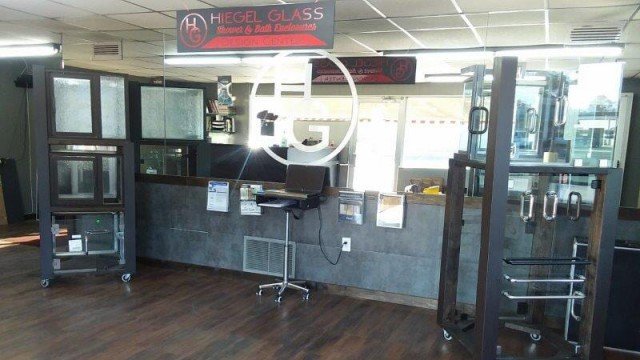 Commercial glass repair & replacement in Central AR
Whatever glass service or product you need for your business, you can find it at Hiegel H&S Glass, Inc. We offer a comprehensive range of architectural products and installation services to meet all of your commercial glass needs. We can help you design, create, and install many types of commercial glazing systems.
The key to our success is collaboration and communication – from pre-construction design to mid-project inspections to close-out reviews, we partner with our clients during every step of the glassworks process to ensure that it meets your specifications and expectations. Specializing in small and medium commercial projects, our team of dedicated glaziers and glass professionals are here to serve!
Great friendly helpful people! Would recommend greatly to all in need of their business.
Our business needed a door glass fixed quick and not only were they fast to respond, they cleaned up all the broken glass and replaced the commercial door glass within a couple hours!
Very helpful. On time and excellent work. Great group of people to work with. Use them on every job we do. ??
Why choose Hiegel H&S for your commercial glass repair & replacement?
Hiegel H&S Glass has been in the glass business for over 20 years and those years of experience show. We have finely tuned our processes to save you time and money and give you the turnaround times you need as a business. We understand that whether you're building a new office or you need a window repair, time is of the essence. Our experienced and talented team of glaziers have been trained in industry best practices and standards to efficiently and effectively meet your company's glass needs.
We are a family-owned, family-operated local business, which means you're supporting your community by choosing us. We treat our customers like friends and neighbors because they are our friends and neighbors. From storefronts to window repair, we can deliver breathtaking, affordable results for any business in central Arkansas.
Frequently Asked Questions
We get a lot of questions from our customers, so we decided to answer the most popular ones here! If you don't see your question listed, contact Hiegel H&S Glass and one of our team members would love to help you out!
Can you help with storefront design?
Yes we have software that can draw and design your storefronts to suit your needs!
Do you repair commercial doors and windows?
Yes we do. We specialize in commercial glass repair, door locks, closers, and weather-stripping.
Is commercial storefront energy efficient?
Not as efficient as residential glazing, although, with developments in thermally broken framing and high performance Low E glass panels they have improved immensely over the years.
I just need one commercial door, is that too small a job?
Absolutely not, we specialize in small to medium commercial jobs and ten doors or a single door is right up our alley!
Get a quote for commercial glass repair & replacement
Ready to take the next step? All of our estimates are as clear and transparent as glass! Contact us now for a cost and obligation-free quote.