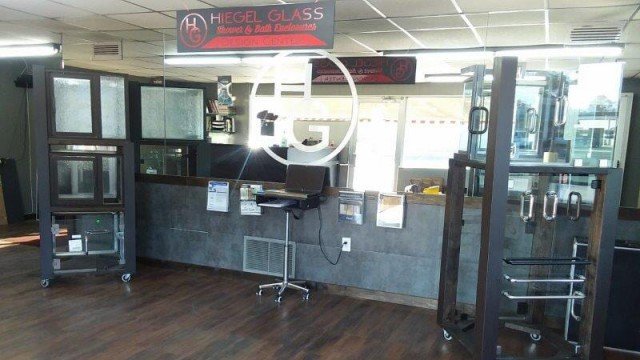 Residential glass repair & replacement in Central AR
From shower doors and tabletops to windows and safety glass, our residential glass experts are the best in the business. Not sure exactly what you need? We offer free, limited contact, in-home consultations – including professional measurements. All of our quotes are cost and obligation-free. We believe that our customer service and high-quality products speak for themselves, so there's never any sales pressure.
We're here to help you choose the best solution for your individual budget and glass needs. Hiegel's glaziers are trained to install glass using the highest industry standards and best practices, no matter the size of the job. From fixing a crack in your kitchen window to installing hundreds of floor to ceiling panels in your corporate office space – no job is too big or too small.
They replaced China cabinet glass. So timely and much cheaper than other town competitors.
Very friendly. Will use them again.
Candace took care of everything from the start! Had answers to all my questions, while listening to what I wanted and made it happen! 100% recommend
Great work and great prices. Love our new storm doors. Our shower door from last year still looks great and works great. Thank you.
Why choose Hiegel H&S for your residential glass repair & replacement?
Our stellar reputation and our long-term relationships with our customers is what sets us apart from the competition. We believe in the power of community and transparency at Hiegel Glass. We provide consistently high-quality glass repair and installation services for our friends and neighbors in central Arkansas.
We can custom fabricate glass to any specification – from custom cuts to edgework on existing pieces, we're here to help you enhance your home's beauty, security, and energy efficiency with craftsman-level glasswork.
Frequently Asked Questions
We get a lot of questions from our customers, so we decided to answer the most popular ones here! If you don't see your question listed, contact Hiegel H&S Glass and one of our team members would love to help you out!
Do you give free estimates?
Yes all our estimates are free.
Do you offer shower doors?
Yes, shower doors are one of our specialties.
Do you make window screens?
Yes we do, one of the only shops around that make window screens in house!
Do you install your products?
Yes all the products we sell we also offer installation for.
Get a quote for residential glass repair & replacement
Ready to take the next step? All of our estimates are as clear and transparent as our glass! Contact us now for a cost and obligation-free quote.